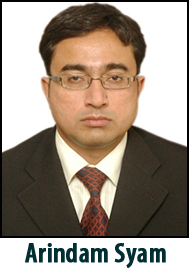 Arindam has over 17+ years of experience in a variety of crucial and strategic positions. His experience covers a diverse range of industries from FMCG to Banking. Arindam started his career in Sales with huge Multinational Giants like Unilever and then ITC.
Arindam moved into Banking & Financial Sector in 2004 and has worked with the 2 leading private sector banks – ICICI Bank and Axis Bank, specialising in the entire spectrum of retail lending, both secured and unsecured. In 2009 Arindam moved into credit with Axis Bank as Credit Manager - All Products (Retail). In 2011, moved to ICICI Bank as Credit Manager – Retail Assets All Products (Bihar & Jharkhand) and 2012 took over as the Regional Credit Manager – Mortgages.
Arindam's cross functional expertise in the Banking sector has helped him in developing a strong understanding about the structure, processes and customer profiles of different business verticals like Retail Liabilities, Corporate Banking and Advances, Forex etc through his continuous interactions with these verticals while he was expanding the business of retail lending franchise in both ICICI Bank and Axis Bank.
Read More
While working in the banking sector, Arindam has conducted several in-house product training programs on entire spectrum of retail assets and credit analysis workshops. His profound knowledge of retail assets credit especially mortgages has earned him a lot of respect and admiration in the banking industry.
At Aaron Educare, Arindam brings along his in depth understanding and functional expertise as also his knowledge of the banking and the financial services sector. His cross functional knowledge of varied industry gives him the analytical edge and his deep domain knowledge of accounting, finance and banking would immensely help the future professionals make a successful career in the banking and financial sector in India.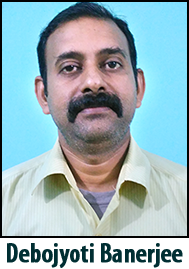 An avid listener of Indian Music in his spare time, Debojyoti is an educationist at heart. For the last 18 years he has ensured super success for all his students by going out of his way to help and motivate them to give their best. Most of his students, who are today well placed with either a large Public sector bank or some Govt job, are indebted to him for their respective success.
Debojyoti has been preparing students for the SBI/IBPS banking and other competitive exams for last ten years in Reasoning and Quantitative Aptitude with some leading educational institutes, coaching and mentoring thousands of students every year. He is also associated with Rabindra Bharati University as a Guest Lecturer and regularly keeps contributing for a leading Bengali magazine helping students prepare for the competitive exams.
At Aaron Educare, Debojyoti heads our Execution & Course Curriculum and is continuously involved in training and mentoring our students for making a successful bid for the competitive exams. His immense patience and his long experience in handling such exam questions makes him almost the indispensable guide that most students seek today.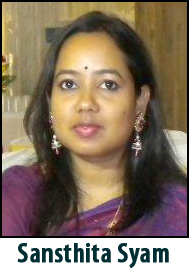 Trained as a lawyer, Sansthita took up teaching at an early age, helping students learn English. Her passion for the language and her ability to relate to students sets her apart as a dedicated and adoring facilitator.
Sansthita herself trained and sat for several competitive exams and got through several bank exams. Even though she did not pursue a banking career, but her ability to understand and delve into what students needs to do to pass these exams puts her in an enviable position vis-à-vis her other compatriots.
At Aaron Educare, Sansthita doubles up as the Head – Student Administration, helping students with finer points that they need to take care during these competitive exams, always counseling them to focus on their strengths and improve upon their weaknesses.
Sansthita truly signifies the saying – "Good teachers are the reason why ordinary students dream to do extraordinary things…'